Despite being convicted by a jury in the murder of his wife and unborn child, Rodney Patrick McNeal will not have to do his sentence of 30-years-to-life in prison.
---
On Tuesday, October 20, 2020, an en banc board of commissioners rendered their decision to grant parole to convicted killer Rodney Patrick McNeal. The commissioners submitted their decision after two commissioners who oversaw Mr. McNeal's parole hearing on September 3, 2020, could not decide whether Mr. McNeal should be granted parole or remain in prison.
The hearings stemmed from California Governor Gavin Newsom commuting Mr. McNeal's sentence on March 27, 2020. This commutation has been denounced by the San Bernardino County District Attorney's Office, District Attorney Jason Anderson, and the family of the murder victims.
On March 10, 1997, Debra McNeal and her unborn child, Samara, were brutally murdered. After being found guilty of the murders, Mr. McNeal was sentenced to 30-years-to-life in prison on May 3, 2000.
Deputy District Attorney Connie Lasky said, "Mr. McNeal was convicted of the brutal murder of his wife and unborn daughter, Samara, and will now be paroled after 18 years. Mr. McNeal was paroled, even though he continues to deny his responsibility for the murder, now accusing his brother, who lived almost 250 miles away from the scene of the murder. He was paroled even though the children and family of Debra McNeal spoke about the ongoing pain that the loss of their mother and unborn sister and niece caused. Mr. McNeal said the right buzzwords and took the right classes in prison to convince the parole board to release him back out to the community."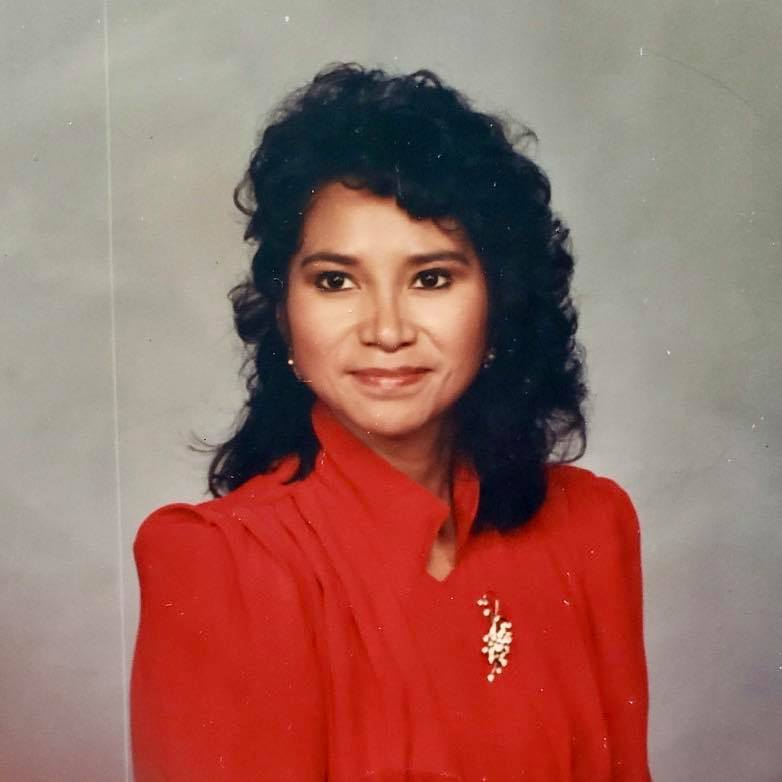 One of the most agonizing parts of this decision is how it affects the law enforcement community of San Bernardino County because, before the murder of Debra McNeal, Mr. McNeal was one of our own.
Mr. McNeal was a probation officer who took an oath to protect the community. He swore to help keep his probationers from violating the law and finding proper outlets for their anger and disappointments, something he was unable to accomplish himself.
---
KABC 7 NEWS REPORT
---
Debra and Samara can't have a "second chance" as Mr. McNeal now enjoys, as he eliminated that possibility for them on that fateful day in 1997.
Samara would have been out of high school and planning her life had she lived. Instead, she never had the opportunity to be born, killed by her father when he killed her mother. Debra and Samara are remembered and loved by their whole family, except by the one person who was supposed to protect them, the man who instead, murdered them.
Statement From District Attorney Jason Anderson About Mr. McNeal's Parole

"The decision by the parole board to release Rodney McNeal is appalling and wrong. We will ask the governor to deny the recommendation.

Mr. McNeal is a convicted double murderer who has given no less than three different versions of why he is not the killer of his wife and daughter. A jury and appellate courts have always rejected these lies. Shortly after the murders, Mr. McNeal filed a false insurance claim regarding the murders to profit from his crimes.

Apparently, these actions do not affect his credibility in front of the parole board. Mr. McNeal refuses to this day to take responsibility for the murders. At least one parole board commissioner actually thinks he is innocent, which is not his call to make. Unbelievably, the board decided to release Mr. McNeal because he was only in trouble a couple of times in prison for contraband cell phones and heroin possession. Otherwise, he was considered a decent prisoner, which they all should be anyways. Shockingly, Leslie Van Houten admitted to the murders she committed in The Manson Family criminal case, and she has not been released.

The parole board's decision regarding double-murderer Rodney Patrick McNeal strips away the notice and reliance the victims' family placed in the criminal justice system. These ideals are the bedrock of an ordered society. Today, in this case, those ideals were discarded by government bureaucrats in favor of a man who killed his wife and daughter."
The San Bernardino County District Attorney's Office will continue to fight for justice for Debra and Samara, just as we did when we prosecuted this case years ago. We will continue to update our community on future developments of this case.
---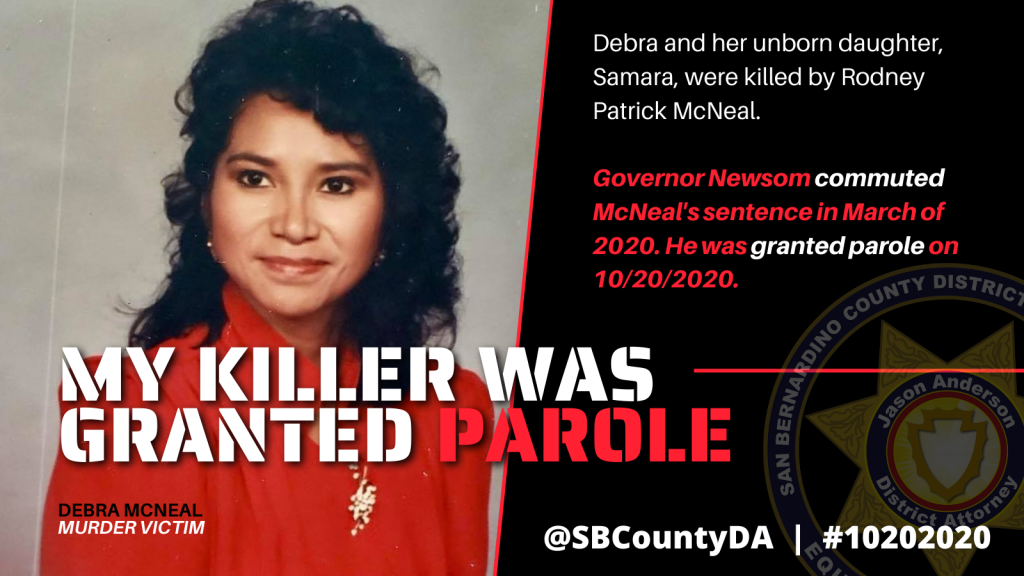 ---
SHARE YOUR CONCERNS WITH THE GOVERNOR
Let Governor Gavin Newsom know you oppose the parole of Rodney Patrick McNeal. His office can be found on Twitter @GavinNewsom and @CAGovernor, on Facebook, and on Instagram. You can also reach him at https://www.gov.ca.gov/. Make sure to use the hashtag #10202020.
---
PREVIOUSLY POSTED ON OUR FACEBOOK PAGE…
---
PREVIOUS MEDIA COVERAGE
The Sun – Former San Bernardino County probation officer convicted of killing pregnant wife among Newsom's commutations
DOWNLOADS
View Gubernatorial Clemency Certificate For Rodney Patrick McNeal (Page 38)