Official Website Of The
San Bernardino County District Attorney's Office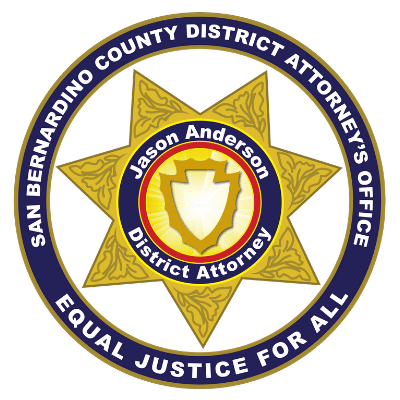 EQUAL JUSTICE FOR ALL.
The San Bernardino County District Attorney's Office serves the residents, business owners, and visitors of San Bernardino County, California.
Our number one priority is the prosecution of those responsible for committing crimes within our communities so that the safety and security of others are protected.
Working in conjunction with some of the finest law enforcement agencies California has to offer, we will pursue justice on behalf of victims and their families.
HOW CAN WE HELP?
Select an option below to get the answers to questions you may have, or to get further information about a topic.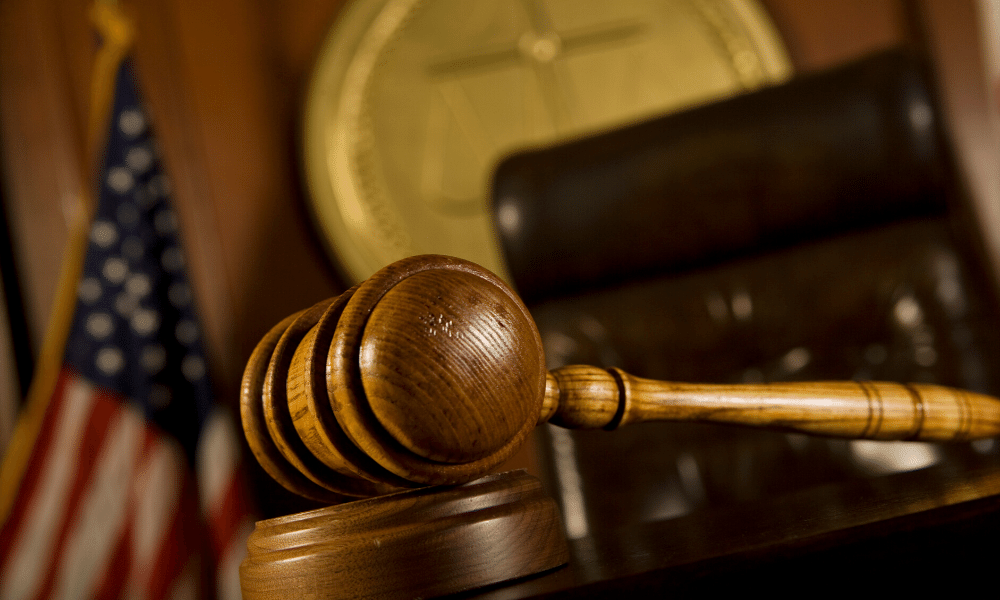 Need information about your court case or a subpoena?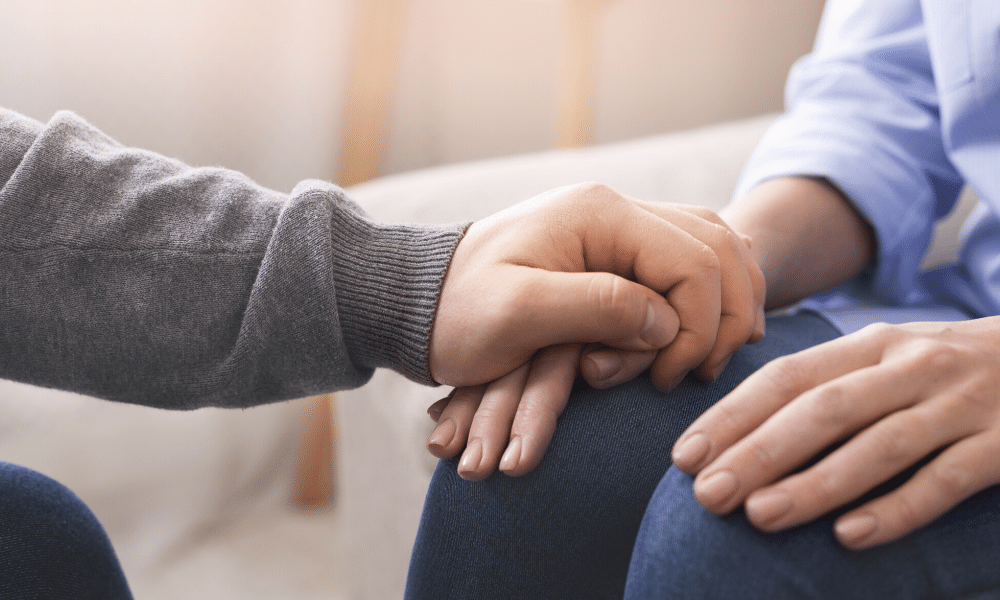 Do you need help such as resources or a shelter? Do you need to speak to a victim advocate about your case?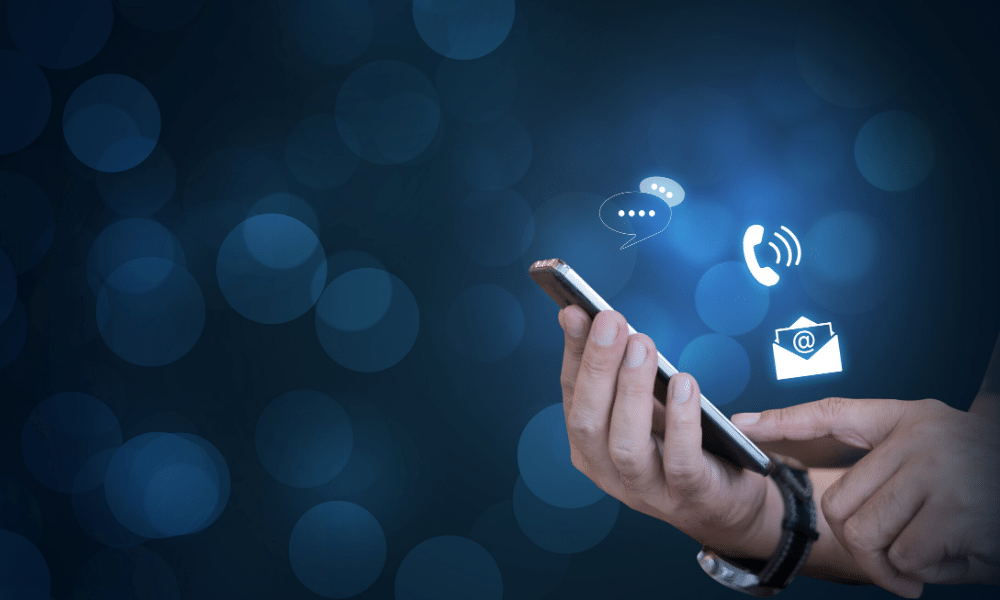 Unsure who to contact regarding a case or a type of crime, or need information about available services?
THE SHIELD:
Rancho Cucamonga Deputy Mike Richardson
In a year as tumultuous as 2020, it is easy to focus on the negative. The news seems to constantly bombard us with discouraging reports of a relentless pandemic, divisive political turmoil, and a narrative of distrust among neighbors. So, how might we stay merry and bright during this holiday season?
FREQUENTLY ASKED QUESTIONS
On behalf of victims and the State of California, the district attorney's office prosecutes individuals and entities for criminal violations of the law.
Please call (909) 382-3800 to find out who has been assigned to your case. You will be forwarded to their phone extension.
The law does not look favorably upon anyone threatening a victim or witness involved in a case.
Please notify the deputy district attorney handling your case immediately.
If warranted, a criminal investigation may be opened and those threatening you will be brought to justice.
You are required to appear in court if you receive a subpoena. Your testimony and cooperation are key to a successful prosecution.
Restraining orders are completed through the courts. Further information can be obtained by visiting the court's website.
In most cases, charges are being brought against the defendant by the State of California, which is who our office represents.
Please speak with the deputy district attorney about your desire to have charges dismissed in a case.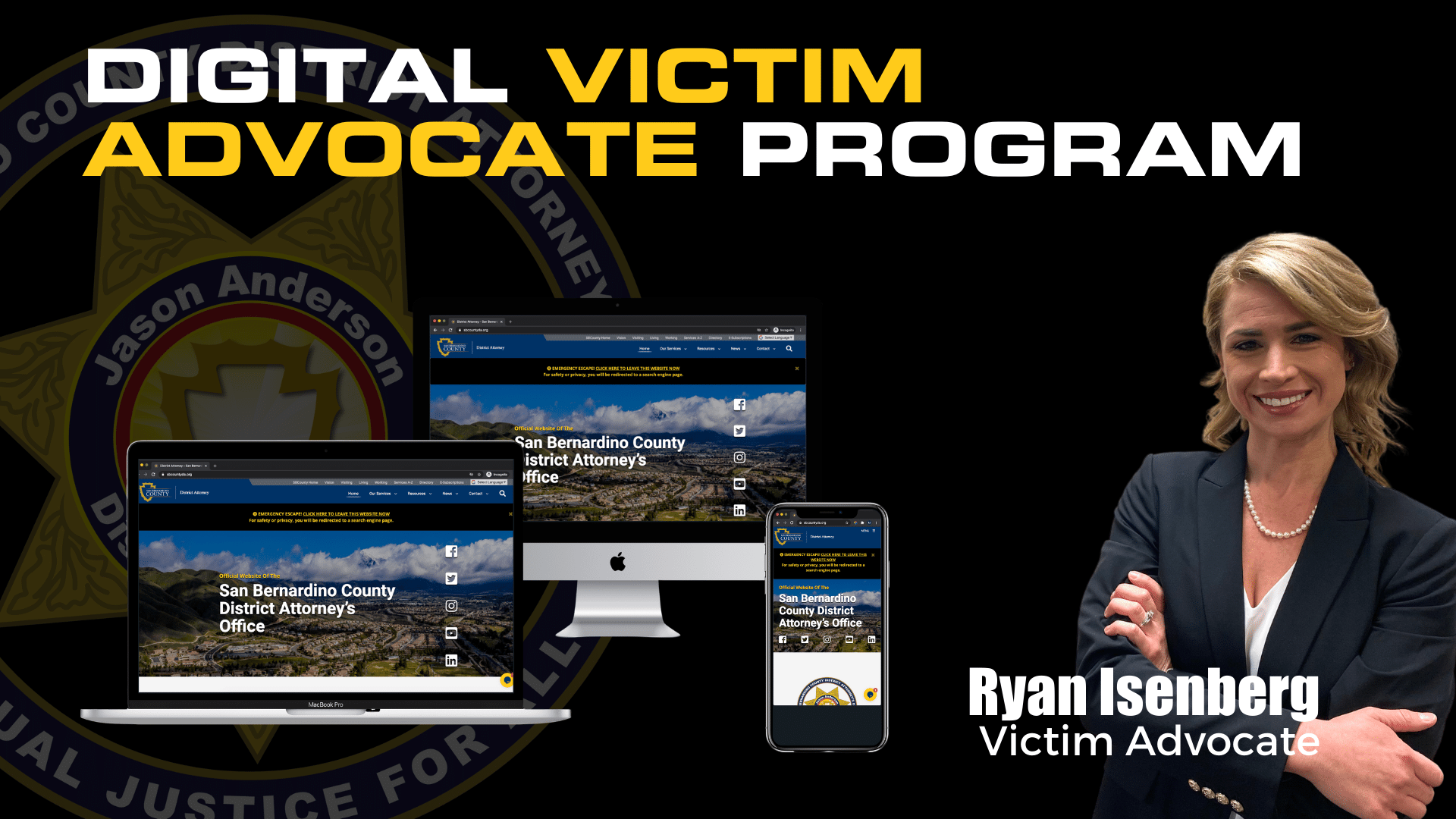 THE FIRST IN CALIFORNIA:
THE DIGITAL VICTIM ADVOCATE PROGRAM
District Attorney Jason Anderson recognized the need for victims and witnesses to be able to connect to a victim advocate online.
Started in August of 2020, victims and witnesses can chat with a victim advocate by simply visiting our website or our Facebook page.
ABOUT OUR OFFICE
Founded in 1853, The San Bernardino County District Attorney's Office is committed to our motto of "Equal Justice For All." With a staff of over 500 dedicated professionals, we'll fight for your rights and for justice to be served on those who harm others.
Deputy District Attorneys
RESPONSE TO
THE EL DORADO FIRE
District Attorney Jason Anderson visited the El Dorado Fire Command Post in Yucaipa to receive a briefing about the fire, its origin, and the circumstances surrounding the death of a firefighter.
Jason Anderson is the 36th district attorney to serve the people of San Bernardino County, since the office's inception in 1853.
With over 23 years of experience in the legal field, Mr. Anderson has argued in court both as a district attorney, and a private practice criminal defense attorney. He brings knowledge from both sides of the courtroom to the district attorney's office.
Mr. Anderson is committed to preserving the constitutional rights of all parties involved in the criminal justice process, and he seeks justice for those who have been the victim of crime.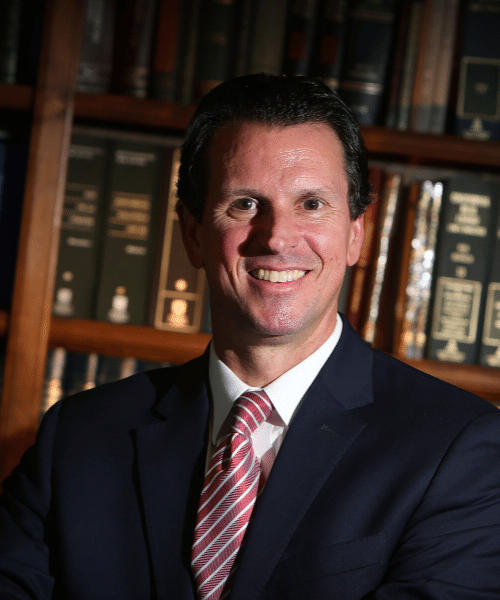 NEWS RELEASES, CRIME PREVENTION TIPS AND MORE
San Bernardino, Riverside County District Attorneys Talk About Their Responsibilities To Victims
January 21, 2021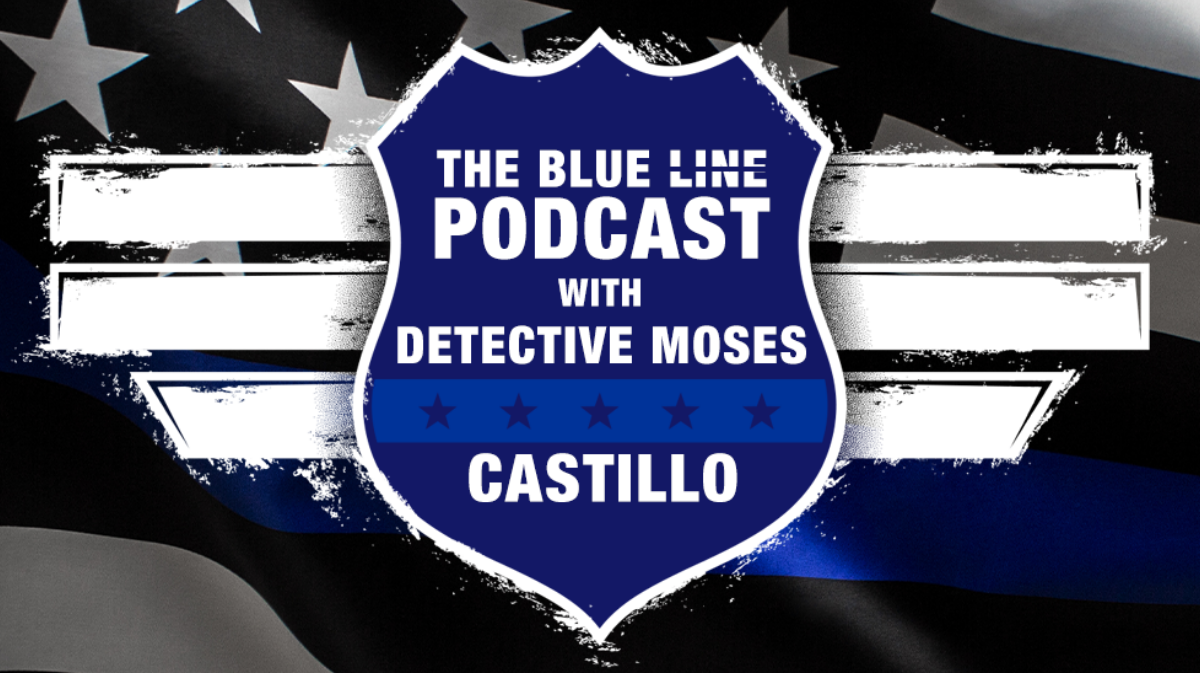 Last week, San Bernardino County District Attorney Jason Anderson and Riverside County District Attorney Michael Hestrin were guests on KABC's The Blueline Podcast. The role and expectations of district attorneys is a topic of discussion in Los Angeles County lately. District Attorney George Gascon recently became the new DA. His…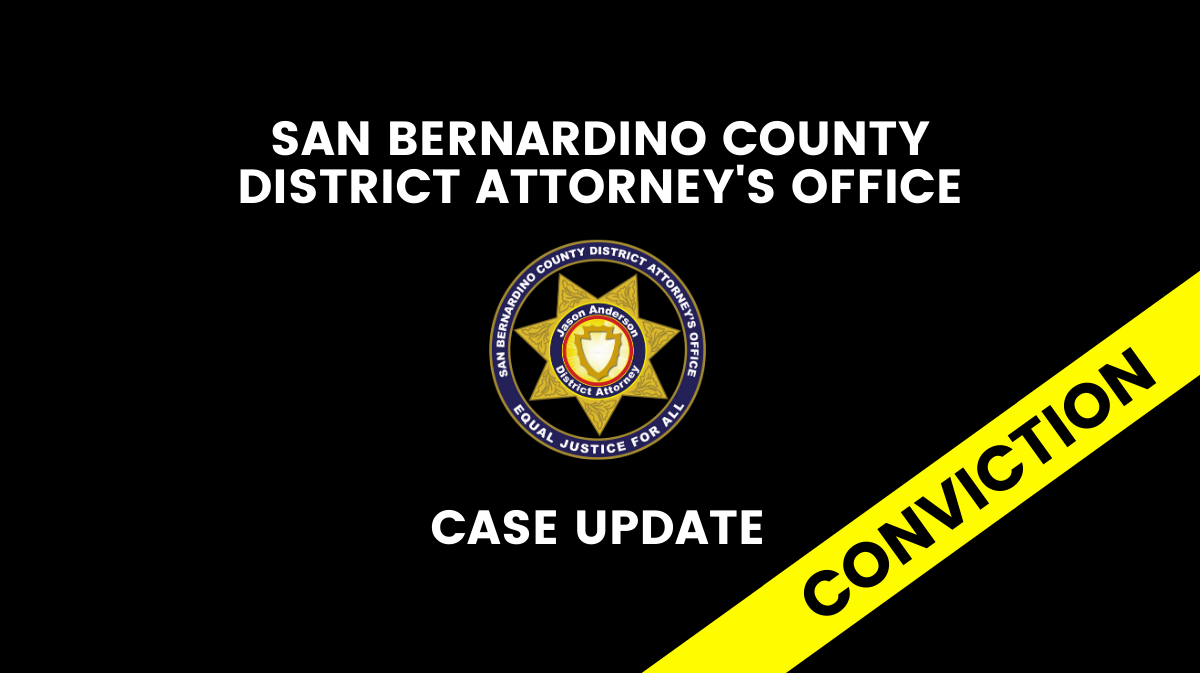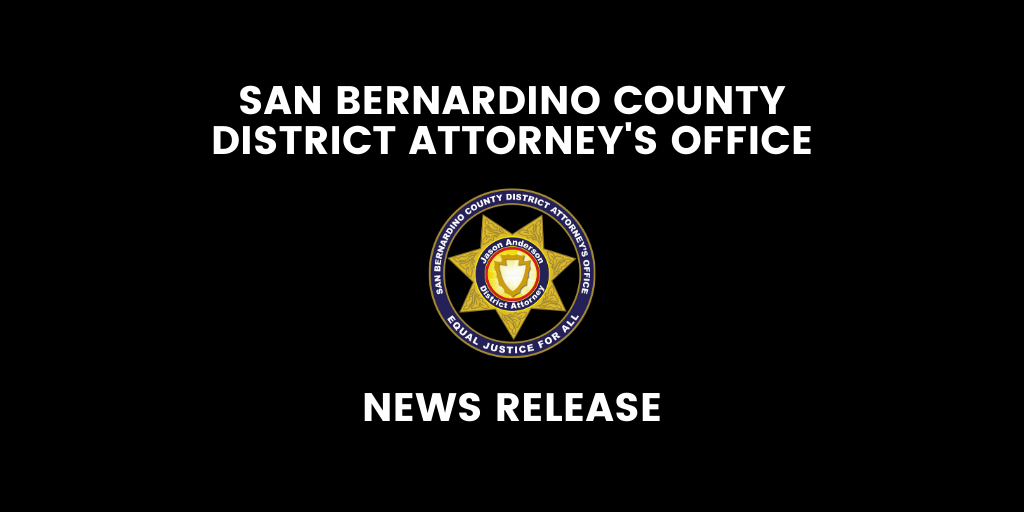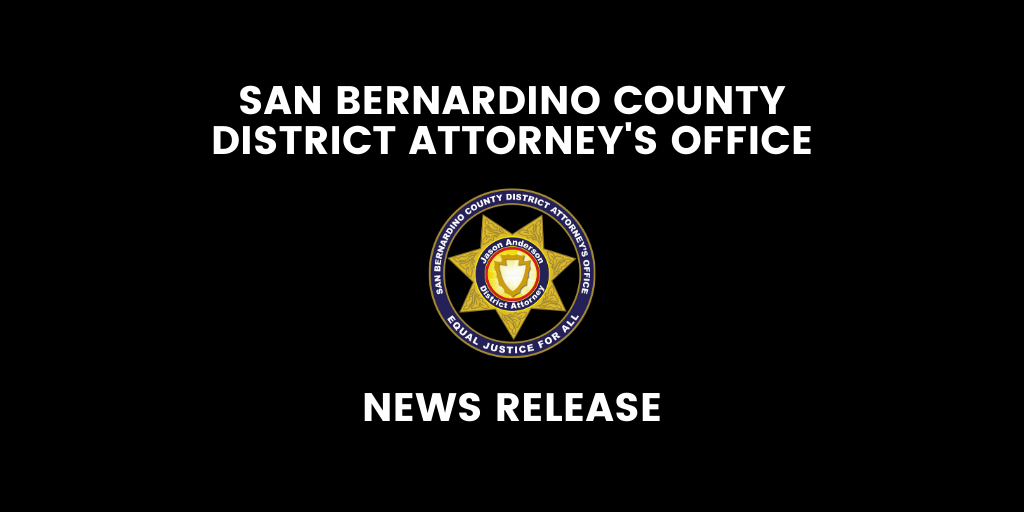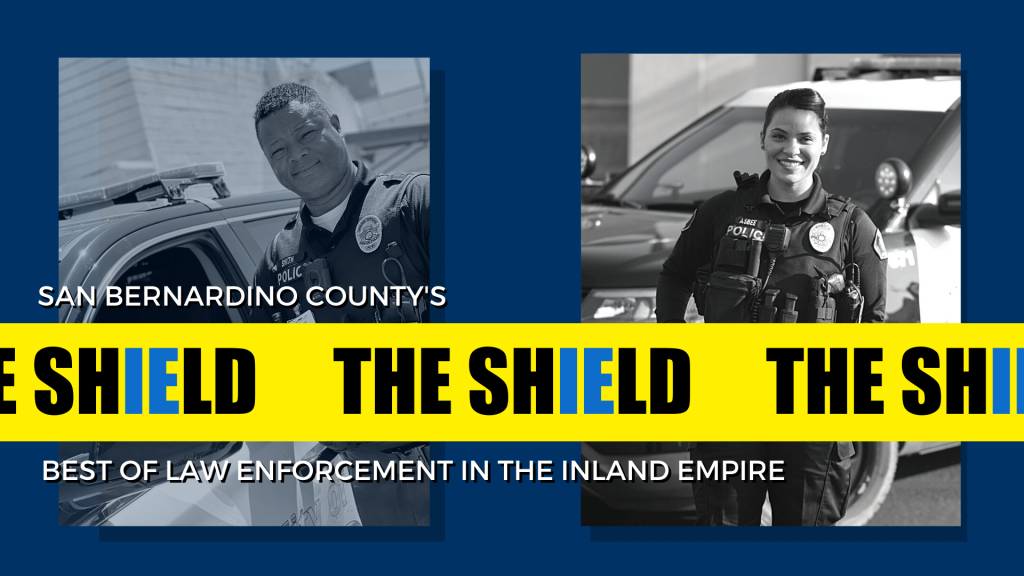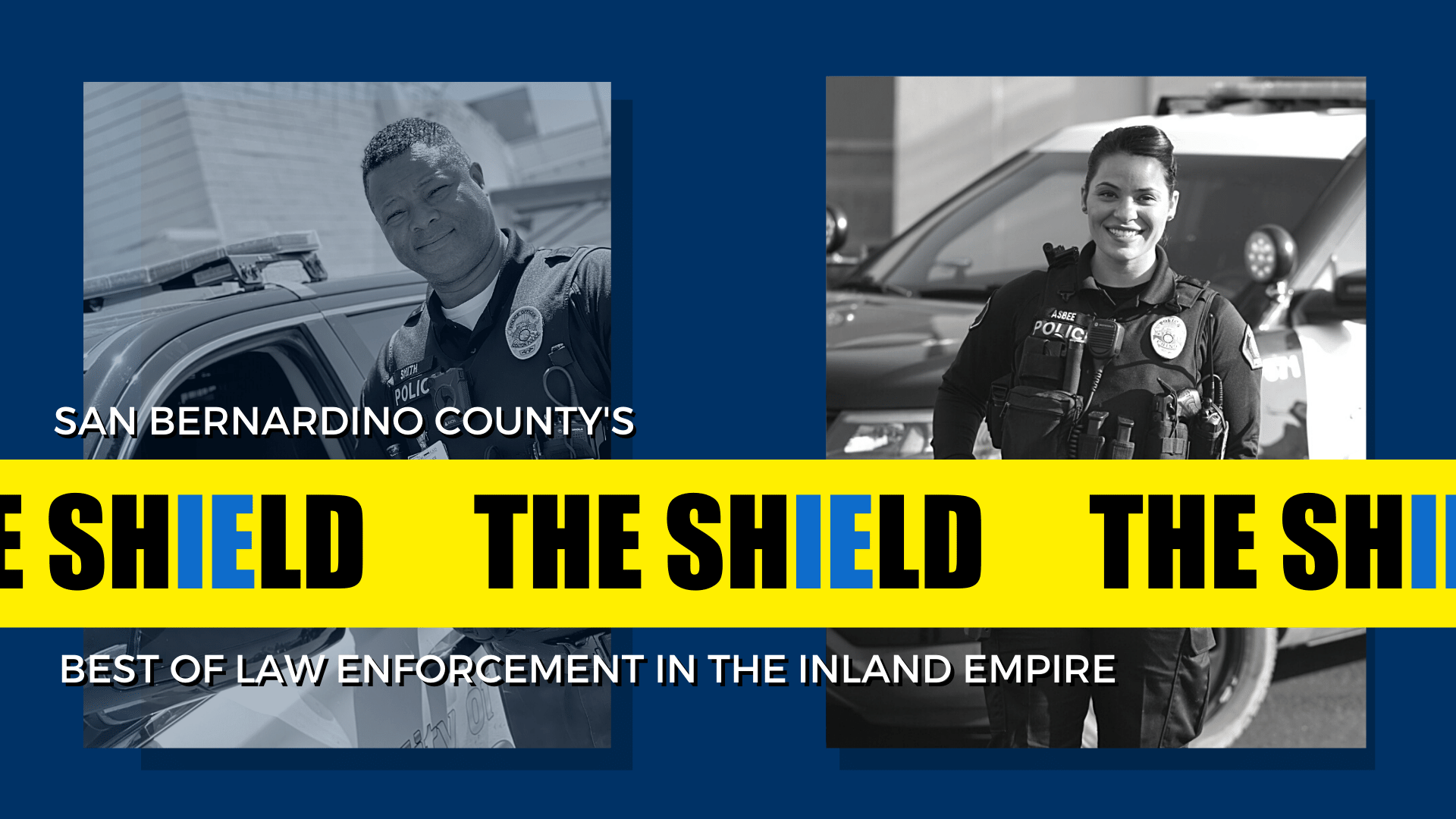 THE SHIELD
Professionalism. Ethics. Values. Community commitment. Leaders.
These are some of the characteristics which make up the brave men and women serving in law enforcement in San Bernardino County.
Highlighted each month in The Shield, get to know the men and women who are doing their best for you.
NOTABLE CASE FILINGS
*Not all case filings are listed; Only those of particular interest to the public and news media are entered on our website.
---
Brenda Estee Torres Charged With Possession of a Firearm in Rancho Cucamonga
January 22, 2021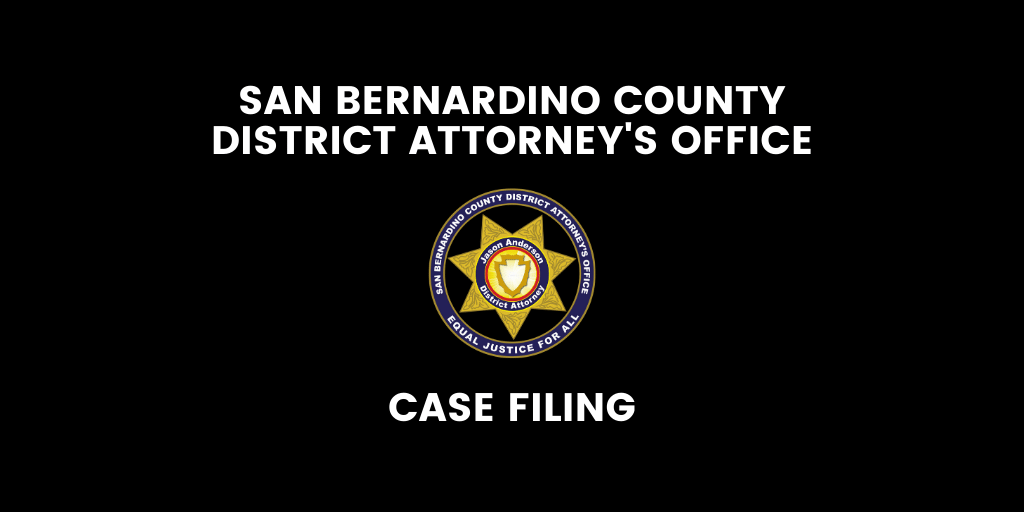 The San Bernardino County District Attorney's Office has charged Brenda Estee Torres (Age 25 of Santa Ana) for possession of a firearm in Rancho Cucamonga. CASE SYNOPSIS On Thursday, January 14, 2021, deputies from the San Bernardino County Sheriff's Department responded to the intersection of Baseline Road and Forester Place…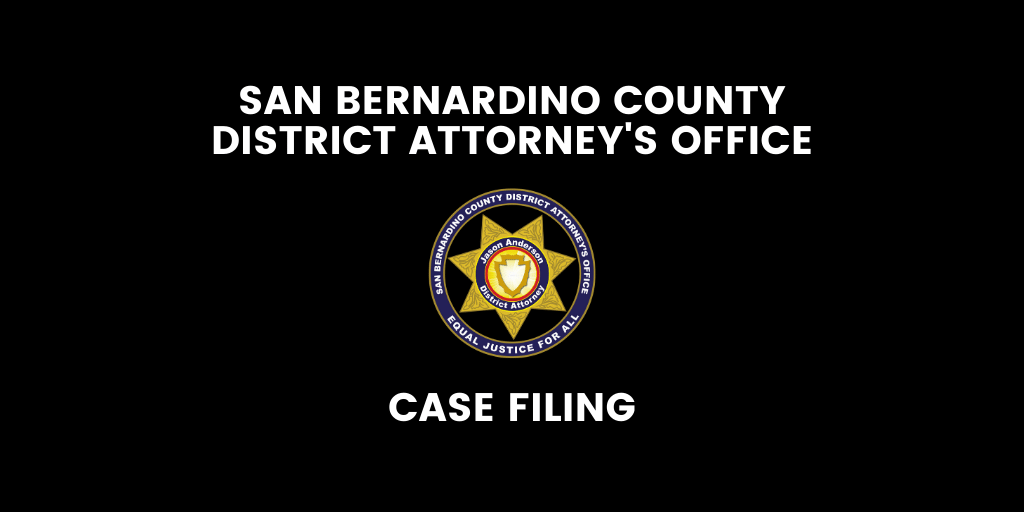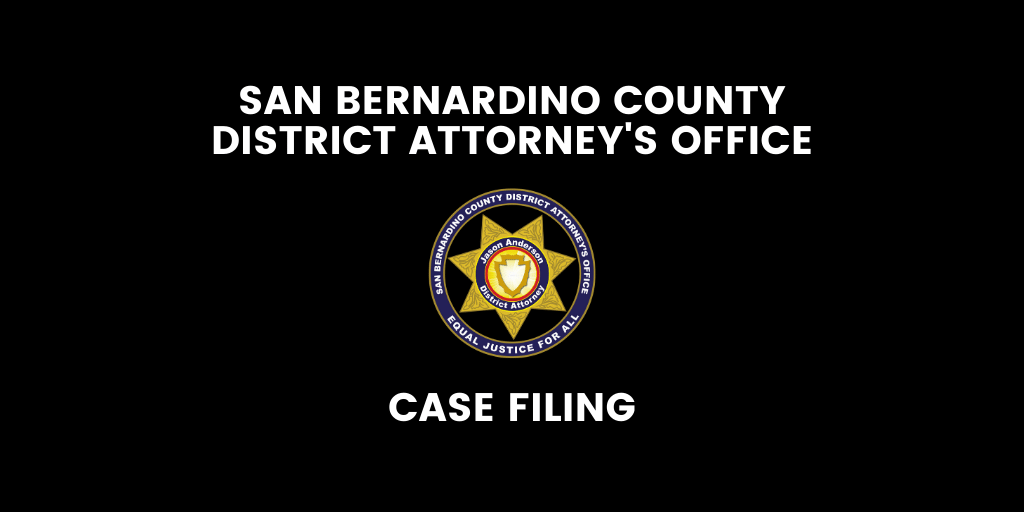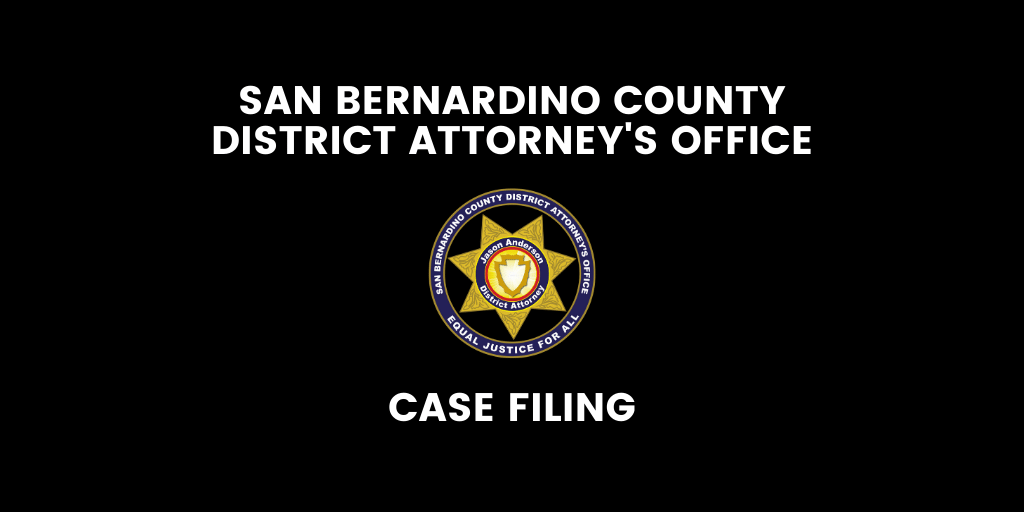 AGENCIES WE SUPPORT