On behalf of District Attorney Jason Anderson and the men and women of the San Bernardino County District Attorney's Office, we want every purple heart medal recipient to know we are thankful for the sacrifice you have made in serving our country.
---
Retired Army Lieutenant Colonel Leonard Tavernetti received the purple heart medal for injuries he sustained in the Vietnam War. Leonard made a career in the Army, and although he has been retired for some time, he still takes care of his "brothers" who died in their service to the country.
THE REDLANDS PETITION
As a member of The Military Order of The Purple Heart, Leonard came up with the idea of taking care of the grave markers of 26 purple heart recipients in Redlands. He petitioned the City of Redlands to allow "Veterans' Memorial Lane" to come to life at Hillside Cemetary in Redlands.
Leonard received permission from the city, and the living memorial to these former residents of San Bernardino County came to fruition.
"This hallowed ground is the spiritual home of our sons of the Redlands area, brothers bonded in blood during war, whose remains rest under the world's seas, in remote jungles or interred on distant shores. They hailed from Redlands, Yucaipa, Calimesa, Mentone, Crafton, East Highland, Loma Linda, and Bryn Mawr."
THE GRAVE MARKERS
These service members do not have graves here at the memorial. Unfortunately, they were buried in foreign lands where they served.
The grave markers remind us who these servicemen were, and the fact they never came home.
Leonard ensures the markers are clean and presentable, and he places flags and holiday decorations at the site, with memorabilia of the era when these service members had served.
The memorial remembers these young men who so tragically, yet honorably, lost their lives in service to our country.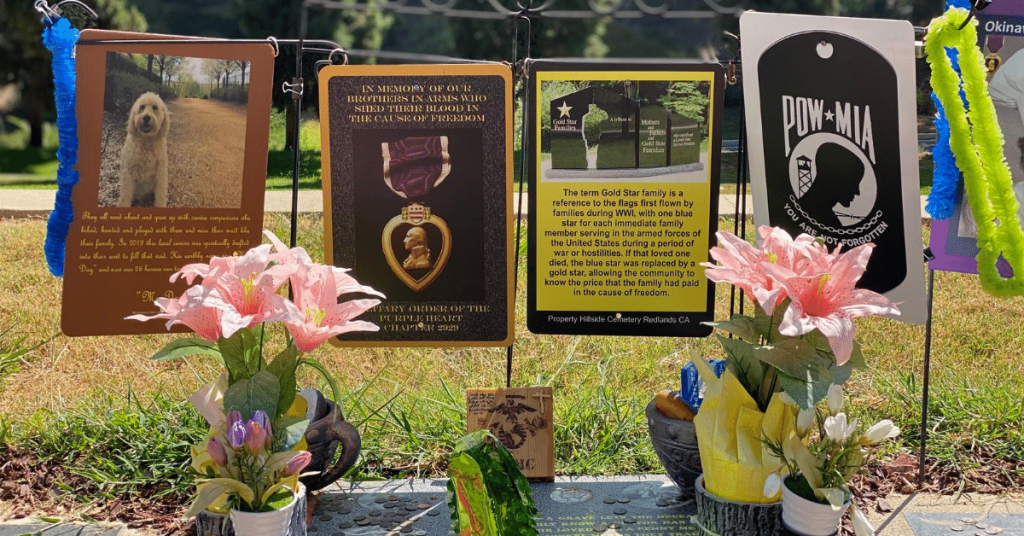 ABOUT THE PURPLE HEART
The Purple Heart Medal was ordered established by George Washington on August 7, 1782. The medal is awarded to service members who sustain injuries in combat.
ABOUT THE MILITARY ORDER OF THE PURPLE HEART
You can learn more about The Robert E. Bush Chapter 2929 of The Military Order of The Purple Heart provides by visiting the website, PurpleHeart.org