A graduate of Chapman University and experience at Orange County District Attorney's Office, Kathryn Fernandez continues her family's legacy of service to the people in San Bernardino County.
Deputy District Attorney Kathryn Fernandez was sworn in on Friday, July 24, 2020, by District Attorney Jason Anderson.
Kathryn brings experience with her, as she is coming from the Orange County District Attorney's Office, where she has spent the last three years. She has extensive litigation experience, having handled completed 20 misdemeanor jury trials, pre-trial motions, and preliminary hearings.
Born and raised in the San Gabriel Valley, she attended Whittier College where she received a B.A. in Business Administration. Kathryn went on to Chapman University Dan E. Fowler School of Law, where she graduated in 2017.
A FAMILY LEGACY
Practicing law as a deputy district attorney is nothing new to Kathryn's family.
Kathryn's father has been a deputy district attorney for the Los Angeles County District Attorney's Office for 34 years. When Kathryn was young, she would watch her father in trials, fighting on behalf of victims. She learned that having a definite purpose in the career chosen makes every day worthwhile, even when faced with challenges.
Additionally, her sister has been a deputy district attorney for the Orange County District Attorney's Office for the last 14 years.
"There is nothing more rewarding than seeking justice while protecting the community"
Kathryn Fernandez
SHE'S HUMBLE
In writing this article about Kathryn, we uncovered some accolades she didn't mention, that we thought were pretty spectacular.
Kathryn was the valedictorian of the business administration department for Whittier College in 2014. When she attended Chapman University, she was the winner of the 2015 Rutan & Tucker Golden Gavel Oral Argument Competition. Kathryn also won the 2015 National Moot Court Competition Regional Championship.
Kathryn was entrusted with the organization and led the Chapman Law Reviews Annual Symposium in 2017, in which U.S. Supreme Court Justice Samuel Alito gave the keynote address.
DOING THE RIGHT THING
Kathryn has studied in China, Argentina, and Ireland. She eventually would like to be assigned to the family violence unit to help people who may be suffering at the hands of a loved one or significant other.
Kathryn firmly believes her position as a deputy district attorney is the best career choice, as the primary function of the job is to do the right thing on behalf of the people, every day you work.
---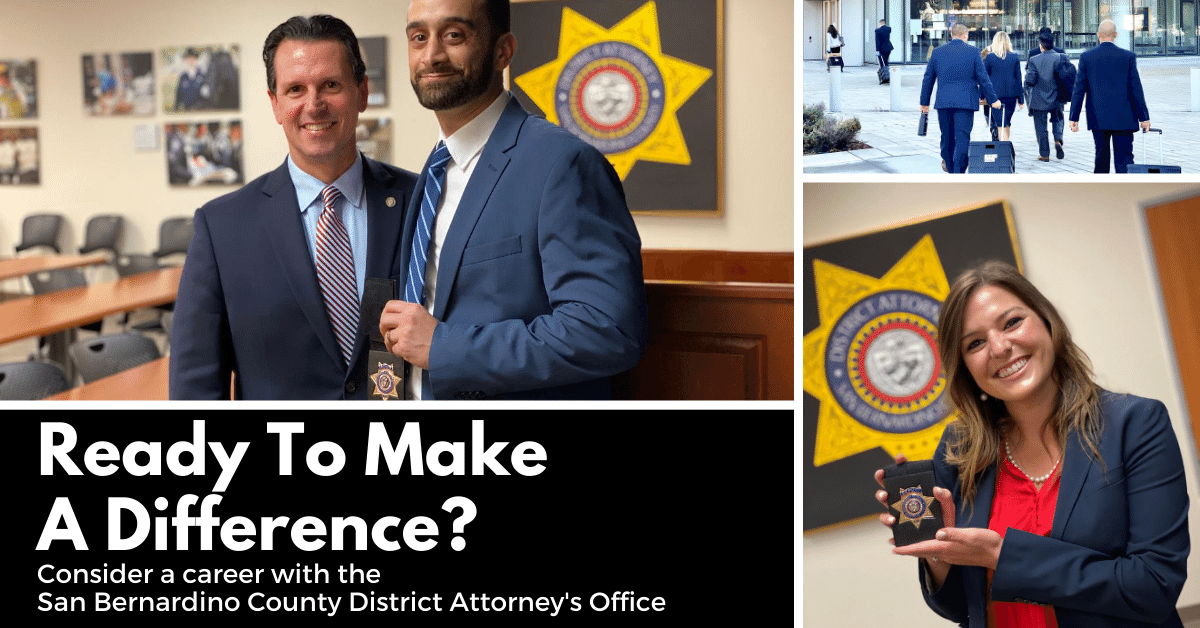 ---
A PIECE OF ADVICE FOR PROSPECTIVE ATTORNEYS
If you're considering a career as a deputy district attorney, you should talk to as many people as possible. Network with other attorneys, and build your sphere of influence.
This profession is 100% built on working with and helping people. The position of a deputy district attorney isn't learned from a textbook or class; you gain knowledge and experience in the courtroom.
Kathryn strongly encourages gaining experience through intern or volunteer programs and shadowing deputy district attorneys whenever possible.