Through the efforts of the San Bernardino County Human Trafficking Task Force and the district attorney's office, Brandon Edward Lewis (Age 35 of Highland) will be spending 73 years in prison for human trafficking, pimping, and other crimes.
---
On Friday, January 8, 2021, Brandon Edward Lewis was sentenced to 73 years and four months for his actions as a violent pimp who was trafficking young girls in the San Bernardino area in 2018. He would physically injure these girls through beatings, in which they would sustain injuries, sometimes requiring them to go to a hospital.
HIDING IN AN ABANDONED HOUSE
One of Lewis' victims was a 17-year-old girl who was working for him as a prostitute in Las Vegas, Nevada. In January of 2018, Lewis brought the girl, who was now 19, to San Bernardino, to continue working as a prostitute. The girl was required to give all her money she was paid to Lewis.
The girl was scared and intimidated by Lewis. She knew from being beaten by Lewis in 2017 the trauma he could inflict on her. Lewis even made her tattoo his street name on her face.
In April of 2018, Lewis became angry with the victim when she simply didn't answer his phone calls. He located her, picked her up, and drove around the city of San Bernardino. Over the course of two hours, Lewis berated and violently beat the victim. He punched the victim in the face with both his fist and the butt of a handgun he was holding.
Lewis brought the victim to a park where he told her he was going to have his gang member partners gang-rape her. Once at the park, the victim ran to try and get away from Lewis. He caught up to her and drug her back to his car. He left with the victim and told her if she was going to run from him, he was going to take everything she had. Lewis took the victim's purse, cell phone, and $200 cash.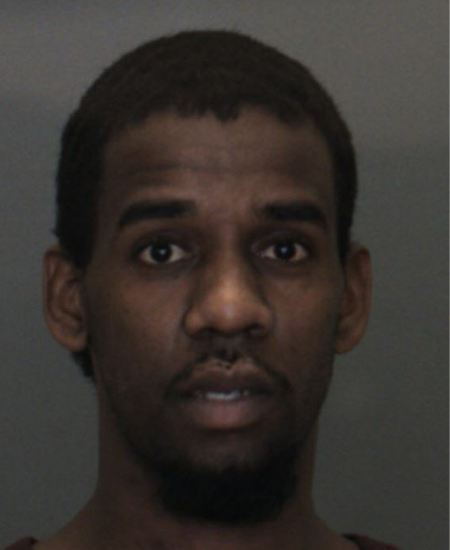 When the car was at a busy intersection, the victim was able to escape from the car. She spent the night hiding in an abandoned house and went to the hospital the following day. The victim had sustained two broken fingers and a black eye when she attempted to escape from Lewis.
"Brandon Lewis was a vicious predator who preyed upon vulnerable young females. His self-titled pimp name "Vicious" speaks volumes as to what he subjected his victims to. He had a complete disregard for the physical, mental and emotional wellbeing of the victims. Lewis would inflict violence upon the girls if they objected to working or failed to bring back the set amount of money, he required them to earn daily. He viewed these girls as his personal property and simply as a means to put money in his pockets. Lewis had a stunning sense of brazenness as he often boasted of his profession as a violent pimp on social media.

As this case demonstrates, sex trafficking is a cruel and callous business, in which violence and threats are often used to control victims. It's our duty to hold traffickers such as Mr. Lewis accountable for the horrendous acts they commit."

Deputy District Attorney Cassie Helmuth
THE END IS NEAR FOR LEWIS' REIGN OF TERROR
After being notified by the hospital of an assault victim, officers responded and spoke with the victim. Upon learning the victim's pimp was responsible for her injuries, the San Bernardino County Human Trafficking Task Force was called out to assist. San Bernardino Police Detective Kimberly Hernandez, assigned to the task force, responded and assumed the investigation.
The officers learned about what had happened to the victim, and thanks to the bravery of the victim, she revealed other information which would save the lives of two other girls.
Lewis had two other girls working for him as well, serving as prostitutes. One of the girls also had Lewis' street name tattooed on her chest, and the other girl was a juvenile, who had been working for Lewis since she was 14-years-old. Investigators located social media messages and videos in which Lewis discussed pimping as well as the abuse and threats he used against his victims. Such messages and videos revealed Lewis had been trafficking victims for several years in Las Vegas and San Bernardino.
Knowing he was wanted in relation to this case, Lewis fled to Las Vegas, where he was later located by law enforcement. After filing this case with the district attorney's office, it was assigned to experts who specialize in the prosecution of human trafficking cases. The girls were assigned a victim advocate, who was also an expert in the area as well.
THE PROSECUTION & SENTENCE
On January 28th 2020, Lewis' criminal trial began in the San Bernardino County Superior Court. Over a period of approximately 3 months, the district attorney's office laid out their case against Mr. Lewis, painting a picture of the violence and fear he instilled upon his victims who he exercised physical and mental control over.
Fortunately, Lewis was found guilty by a jury of his peers for a myriad of crimes spanning from human trafficking, kidnapping and pimping to using a firearm and causing a minor to engage in commercial sex.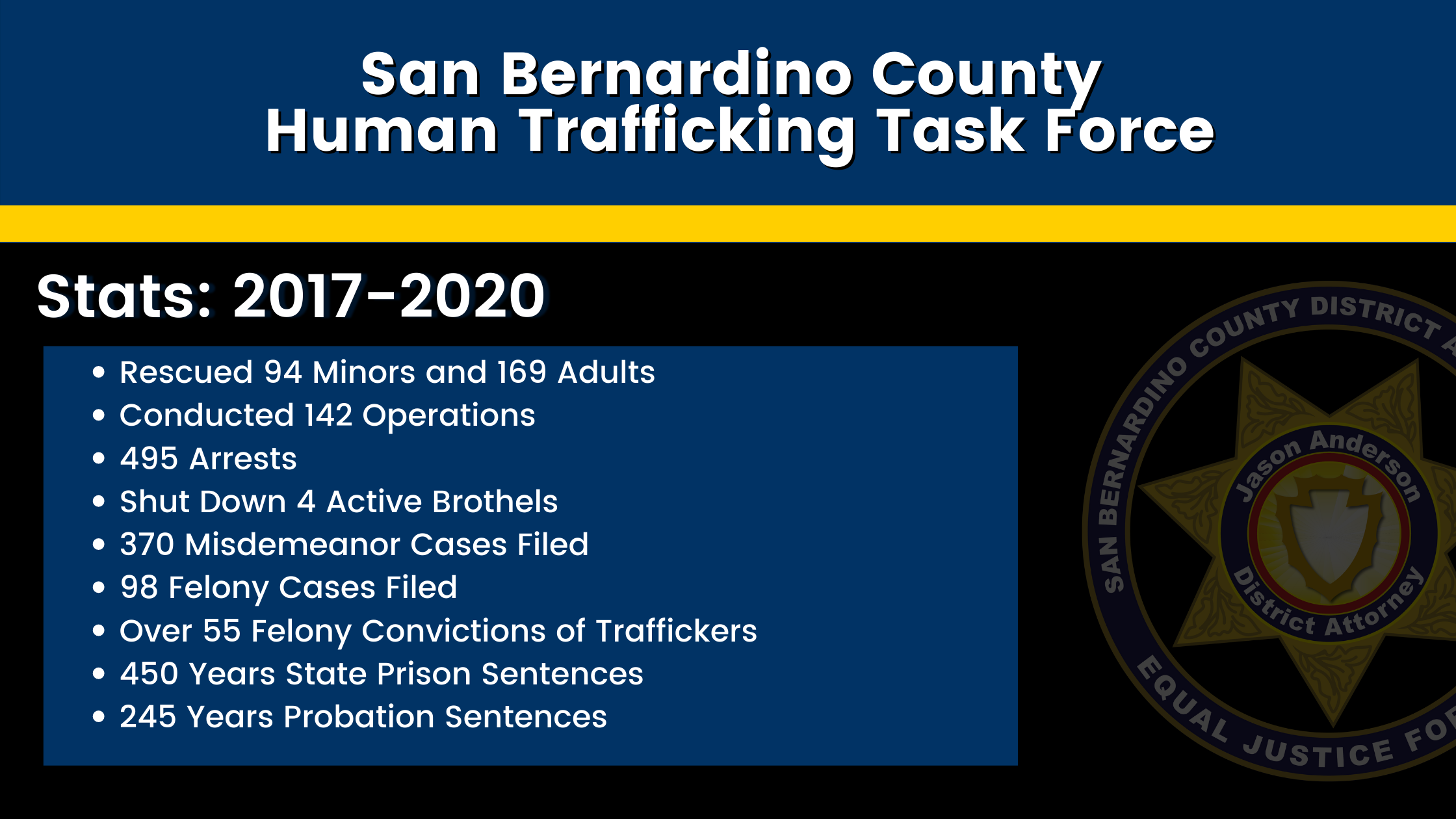 ARE YOU A VICTIM OR KNOW SOMEONE WHO IS?
Are you being forced to work for someone? Are you threatened or living in fear of being harmed? Maybe you don't believe you can turn your life around.
Our San Bernardino County District Attorney's Office Bureau of Victim Services advocates are available to human trafficking victims through the entire criminal justice process. Whether a victim needs to discuss what their options are when it comes to trying to get out of dangerous situations once a case has been filed by our office, during the different phases of the criminal justice process, or after a case has concluded.
Victims needs will change during each phase of the process and will be different for each survivor. We understand this.
Our goal is to see a victim through till the end and make sure they are connected to the services they need, assure their safety, and make sure they have all the tools to succeed.
Our advocates assist victims in completing The Victim Compensation Board Application, which can assist human trafficking victims with relocation costs, home security modifications, mental health services, medical bills and job retraining.
Collaborating with our community partners is vital to the success of our victims. We can't do this alone; we lean on organizations like Open Door and CASE- Coalition Against Sexual Exploitation to make sure these victims flourish.
Help is only a phone call or text message away. Call 911 or the National Human Trafficking Hotline at (888) 373-7888, or text a message to 233733.
LEARN MORE ABOUT HUMAN TRAFFICKING
Read our article, "Sex $ells: What Do You Know About Human Trafficking?" to learn more about human trafficking.
---
ABOUT THE AUTHOR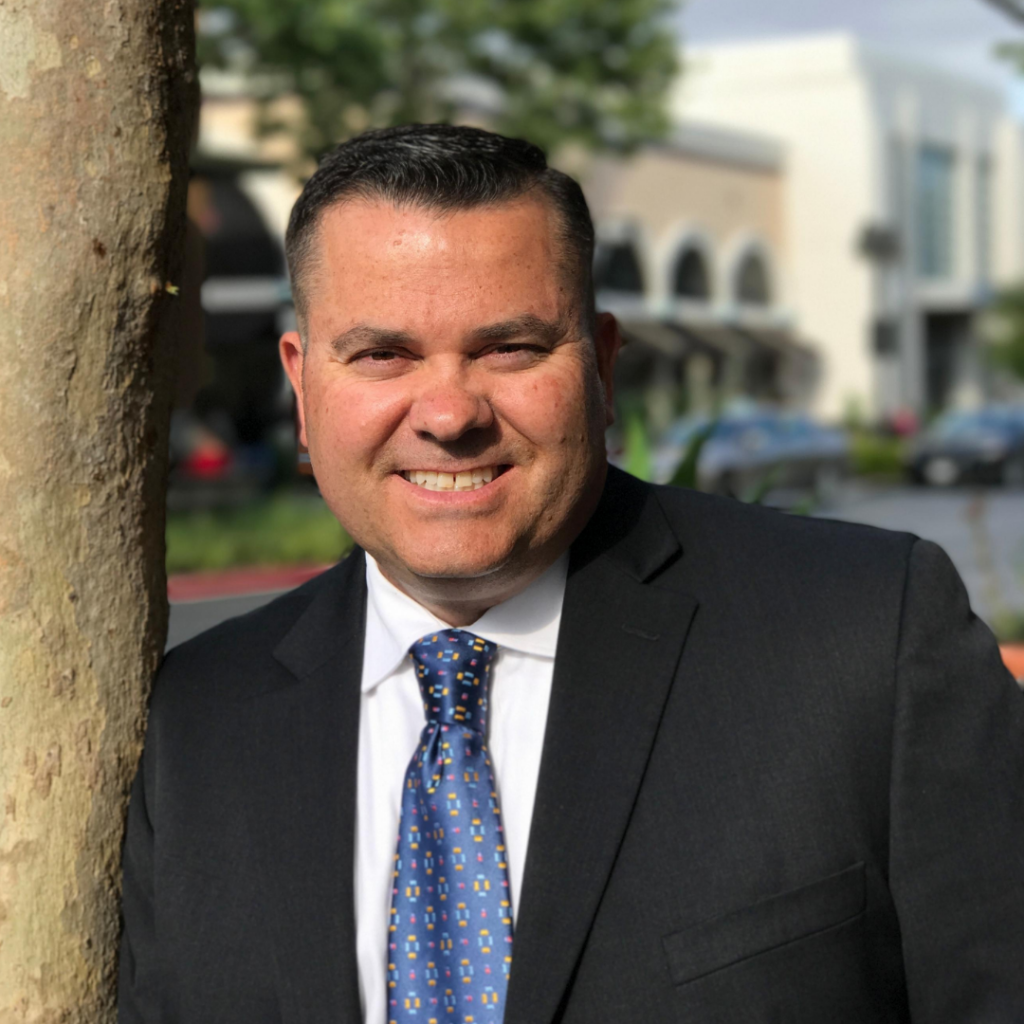 Mike Bires
Mike Bires is the public affairs officer for the San Bernardino County District Attorney's Office. Responsible for the website, social media, and other digital platforms, Mr. Bires ensures the transparent message of the office is delivered to the members of the community with the highest standards of professionalism and ethics.